Ask the experts
Here is a selection of Q&As from Your Devon and Cornwall Wedding magazine. If you would like your question answered by our experts, please email it to editor@yourdevoncornwall.wedding.
To view more Q&A's on a different topic, please select one from the list below.
Hot topic: Fabulous fashion
Our regional experts talk fashion
---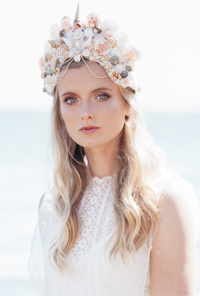 Sea queen
Q. I have long hair I'm wearing down for my wedding and wanted to style it with a really elaborate headpiece that isn't a tiara or a small comb but something really dramatic. What can you suggest? Should I match it to my dress? Or maybe to my beach theme? Should this be the only accessory I wear in order to make a statement?
A. Claire Austin says: Your bridal headpiece should be a reflection of you. If you really want to make an impact on your wedding day then opt for a seashell crown! Each one is completely bespoke, you can design your very own mermaid crown with me. You don't even have to just wear one. Why not opt for a smaller, understated and delicate headband with pale shells for the ceremony and then go BIG for the reception with a huge crown using a mix of different shells in all colours? If you have long hair, consider wearing it with loose waves that really set off your headpiece and will bring out your inner mermaid! It's perfect if your wedding is by the beach because the sun will pick up the colours in the different shells and jewels beautifully. You'll certainly be a bride to remember and best of all it will be the only creation in the world and yours to keep forever as a memento of your big day.
---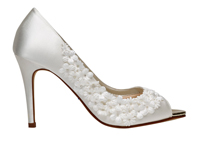 Best foot forward
Q. Do you have any tips and advice for newly engaged brides-to-be searching for their wedding shoes? What styles are #trending? What heel height should I go for? Should I opt for a matching bag?
A. Richard Marsh says: The newly engaged bride has a lot to organise when it comes to her big day - from choosing the right venue to picking out her dream dress - so the team at Rainbow Club is on hand to help when it comes to finding the perfect bridal accessories. Brides may have been dreaming about their bridal shoes for years, or feel overwhelmed by the varied choice on offer, so here are a few things to remember before making your final decision.

- Decide on your dress before buying your shoes. This way you'll be able to determine what style works best with your chosen gown. You'll need to take your shoes with you to your dress fittings for any alterations that may be needed because these will depend on the chosen heel height.

- When it comes to deciding on a heel height, ensure you choose one that you feel comfortable with. If you've never worn high stiletto heels, then your wedding isn't the day to start! From block to kitten heels, all of our shoes at Rainbow Club come with Bliss Cushion Technology featuring a padded lining and super-soft comfort underfoot, ensuring tired feet won't be an issue.

- Once you've chosen your shoes, you can think about whether or not you want a clutch bag for your big day. Keep in mind that you may be holding a bouquet so trying to juggle a clutch at the same time might not be ideal. That isn't to say that you can't have one for the evening to keep your essentials in, you will have everything from make-up and tissues to a compact mirror and your room key to take care of!

- We're seeing a big trend for coloured footwear this year, from something blue to bold and beautiful. Brides are looking for shades that complement their overall colour palette – soft pinks and blush are always a favourite. For brides who want to add a pop of colour to their bridal look, our Colour Studio service can transform your Rainbow Club bridal shoes and bags into beautiful, bespoke accessories – our in-house team can match any shade.
---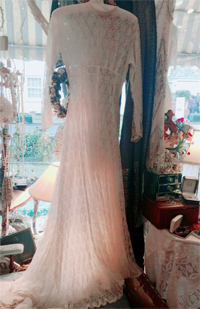 Keeping it vintage
Q. We don't have a big wedding budget so I want a dress that isn't too expensive yet is made from lovely material. Any ideas?
A. Linda Duriez says: Have you considered a vintage gown? I've always been a fan of vintage wedding dresses and in particular, vintage lace styles, so I say look at both old and new designs. The great thing right now is that the standard and choice of vintage items has never been better. Once upon a time you might find one at the back of a charity shop but now we have many vintage shows, fairs and boutiques nationwide.

Not all vintage fabrics are wearable all day as a wedding dress but lace is because of its natural fibres and meticulous craftsmanship. It's immensely durable and falls beautifully. A potential 'vintage' bride needs to check that alterations can be made. We have a vast stock of lace collected over the decades that can be used to make something larger or longer and we also remodel dresses. For instance, a low back, lower neckline or adjustments at the waist can all be achieved.

When it comes to budget, brides are often surprised that vintage gowns are so reasonable – I sell dresses from £50 to £2,000 with the upper end being vintage- inspired gowns by independent designers. My main price point falls between £350- £795. Another possibility is to accessorise a newer plainer dress with exquisite headwear made from old jewellery or an antique veil.
---
Contact our experts...

Claire Austin
Bridal headwear designer

Linda Duriez
Days of Grace Vintage

Richard Marsh
Managing director
---